Emma Beebe from Wyle, Texas, entered her freshmen year at TCU with every intention to major in biochemistry – a subject she had been interested in since high school. It wasn't until her second semester that she decided to take the advice of her older sister Rachel Beebe '11, and test the waters in engineering. By the winter of her sophomore year, Beebe was fully captivated by the subject and decided to commit to majoring in engineering with an electrical emphasis and a computer science minor.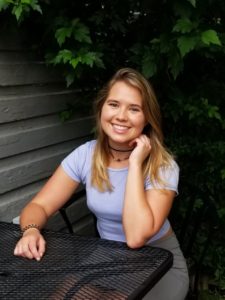 Beebe has recently been working with Liran Ma, associate professor of computer science, on the DSound application. The iOS application takes in sound waves, processes and amplifies them and quickly sends them back through the headphones to mimic a hearing aid. By having a phone equipped with this application, buying a hearing aid would become unnecessary for those who do not have access to one. The team is working to develop several ways the app can make the lives of those with hearing impairment more convenient. "The goal right now is to make everything in one layout so it can be very user-friendly for older audiences that are not as familiar with apps and how to navigate them," said Beebe.
Ma reached out for her assistance on the project the summer after her sophomore year because of her interest in computer science. "I have definitely experienced a learning curve. It uses a code language I've never learned before so it really benefits me by creating the opportunity to learn something new. I have spent this past semester challenging myself and getting familiar with the language and interface development so I can start giving my input to the rest of the team," said Beebe.
Before starting on the project, Beebe spent her summer as an intern at Northrop Grumman Corporation in D.C., a defense technology company that was named the world's fifth-largest arms trader in 2015. This past summer she interned for the coding department and is looking forward to returning this summer to intern in the signals analytics department.
In contrast to her knack for science, Beebe also has a musical side which she demonstrated as a member of the TCU band her freshmen and sophomore year. Beebe has been playing in band for ten years and shares this affinity with her twin brother, Chad who attends the University of North Texas as a music major. Beebe joined Kappa Kappa Psi, TCU's National Honorary Band Service Fraternity, her freshmen year and has remained a member throughout her time at TCU. Beebe is also the vice president of the Institute of Electrical and Electronics Engineers group and treasurer of the Society of Women Engineers here at TCU.
While Beebe enjoys being involved on campus, her sense of adventure draws her beyond TCU's grounds as well. "When I came and toured [TCU], I thought it was a really friendly campus. I loved walking everywhere, I loved the size and how TCU is in its own bubble with so many surrounding areas to branch out to, like downtown or the Stockyards," said Beebe. Beebe loves getting the chance to explore Fort Worth in her free time to get to know the city and appreciate all it has to offer a college student.
Beebe is looking forward to gaining additional valuable experiences throughout her senior year that will prepare her for a job or graduate school after she graduates.