Sean Haight '09 graduated from TCU with a degree in mechanical engineering. He went on to earn his master's in transportation safety engineering from George Washington University, and then his doctorate in computational science from George Mason University. His current role is Senior Staff Passive Safety Test Engineer at Tesla, and he is in charge of crash and safety testing.
Haight grew up in San Diego and was recruited to play football at TCU. He played for his first three years at TCU, then decided to focus more on academics as he applied to graduate school his senior year. Haight entered the engineering field because of his father. "My dad was involved in the automotive safety industry," Haight said. "He's actually well known as the human crash test dummy - he literally drives in car crashes for the sake of science and research. That made me want to go into engineering, and growing up I got to spend a lot of time with him learning about safety testing."
Haight said TCU gave him a very solid foundation in engineering that he built on, both in graduate school and in the workplace. "The good thing about engineering at TCU is that you don't just learn a small niche - you really get the fundamentals. You learn engineering as a whole, since it's a very broad curriculum," Haight said. "I learned more than I set out to. I wanted to learn mechanical engineering and I ended up learning a lot of electrical, a lot of electromechanical, and a lot of different things that I wouldn't have thrown myself into. The curriculum forced me to learn things that paid off in the long run."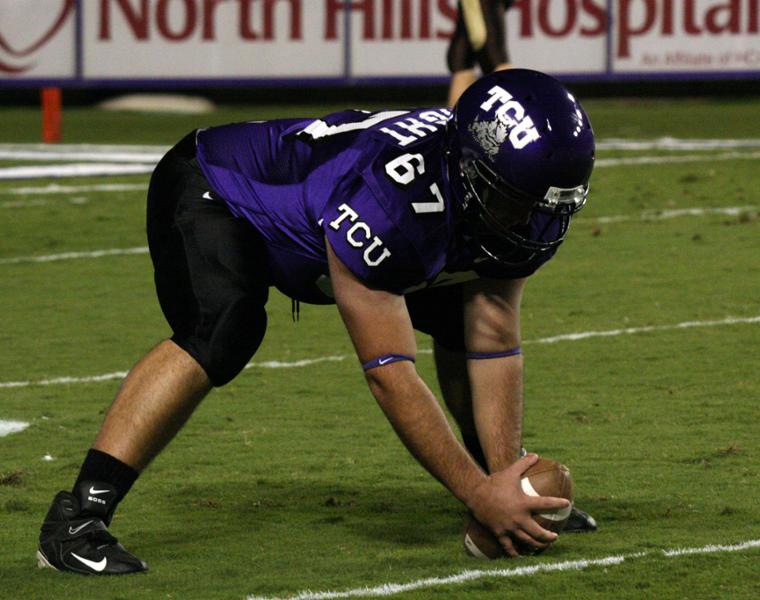 At TCU, Haight graduated with a small group of 25 to 30 engineering majors. He said his classmates and professors were a huge part of his experience. "I spent a lot of time learning with my classmates, since we had the same group of kids in every class," Haight said. "I got to know them really well, and we became super good friends. We still stay in touch to this day, and one of the guys from my engineering class was even in my wedding. It's a really tight knit group."
Haight emphasized the role that his professors played in his experience as well. Emeritus Professor of Professional Practice Patrick Walter, Associate of Professional Practice Becky Bittle, Associate Professor Robert Bittle, and Professor and Department Chair Stephen Weis each contributed to Haight's success as a student. "I looked to them for guidance and met with them a lot during my time there," Haight said. "I learned so much from them, and they always had their own doors open which was the best part about it. They were super helpful."
After graduating from TCU, Haight went to George Washington University for graduate school. The school had a crash test facility and focused on computer modeling of vehicle impacts. Haight specialized in this automotive safety program and became part of the team that performs crash testing and safety development. Near the end of the program, Haight did an internship in Stuttgart, Germany, where he worked for Daimler Mercedes-Benz for about six months.
Haight then pursued his doctorate degree from George Mason University in Virginia. His Ph.D. focused on auto safety and vehicle impact simulations, and his research centered around modeling with materials that are used in crash testing in modern cars and airplanes. The models were intended to help understand how the vehicles behave in dynamic impacts.
After earning his Ph.D, Haight got a job offer from Tesla and moved back to California. As the Senior Staff Passive Safety Test Engineer he performs physical crash tests and works to make the cars safer. He also monitors safety performance and gives feedback to the engineers that are designing the cars. Additionally, Haight oversees the process when the government or safety organizations rate the cars. "I think so far our results speak for themselves. All of our cars have been awarded five-star safety ratings, and our team is very proud of that," Haight said. "It's just been kind of a crazy ride over the past few years for sure. But it's been a lot of fun and I'm super proud of the team and the company. I love being able to have a product that you helped design and can see on the road that can potentially save people's lives."
Haight recognizes the real impact that his work has on people's safety. "A lot of people get hurt and a lot of people die from car accidents, so when you get the opportunity as an engineer to focus on how to improve safety, I think it's a gift. And to take advantage of that is important," Haight shared. "Safety is something that's not thought about every day when people get in a car, but we do think about that every day. That's what draws me into it - it's the impact, the problem solving and the challenge."
Getting feedback from customers is one thing that keeps Haight and his team at Tesla motivated. "I think the best emails I get are the ones from customers posting on Facebook or Twitter. They will post a picture of their car just after a crash and say, 'I'm so glad I walked away from this. Thanks Tesla engineers for making a safe car.' Usually it's a picture of a totally destroyed car, and people wonder how they walked away with no injuries," Haight explained.
Haight said that he can see himself having a long-term career at Tesla. "We're becoming a bigger automotive brand and there's still a lot of room to grow," he said. "Tesla is a great place to work. It's unlike any other car company in the automotive space because of the way we operate. In the five years that I've been working here, I've loved it. I'm having so much fun and being a part of the Tesla mission is so rewarding."
Looking back, Haight is thankful for his beginnings and the support system that TCU provided. "It took me a year or two to really connect with my classmates. Eventually when I did, we learned a lot from and with each other," Haight said. "I also got a lot out of my connections with professors. When I started at TCU, I was less eager to go and talk to them and get extra help. Over time I got more comfortable with the department and the professors, and I spent more and more time with them. By the end of it, I was a much better student academically. TCU truly transformed me once I opened up and relied on the support systems that were available."