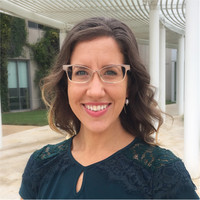 Ray Seguin is a current student in the Coordinated Program in Dietetics at TCU. She is originally from El Paso, Texas, and graduated from UT Arlington with a Bachelor's in Exercise Science. After graduating in 2014, Seguin began to serve women in her community through fitness. She went to the gym with friends, lead group exercises, and hosted dinner parties in an effort to foster community with these women.
Soon after she graduated, Seguin tore her ACL. Looking back now, she sees this as "the biggest blessing," as it allowed her to move back home to El Paso. She had the opportunity to intern with a physical therapist who shared similar beliefs, as well as the chance to work with a family orthopedic surgeon. Throughout her time back home, she wanted to continue to serve women and find that community she was missing.
Seguin continued her relationships with the women she had previously served through virtual training, accountability with working out, and counseling. The most important thing to Seguin was coming alongside the women in each of their own journeys. Around this time, Seguin met her husband, which led her to Fort Worth, Texas.
After moving to Fort Worth, Seguin wanted to continue her love for all things health-related, especially exercise and body image. She began to search online for programs that would further her education, which is when she discovered the Coordinated Program in Dietetics at TCU.
Seguin was originally drawn to studying dietetics because of a desire to serve people. When Seguin was in fifth grade, her sister was admitted to the ICU with a traumatic brain injury. Throughout the few months that her family was there, Seguin remembers the dietitian, who taught her how to "feed" her sister through a stomach tube, being incredibly empathetic and patient. This inspired Seguin to want to work in a busy hospital, yet slow down and treat each patient with understanding. "The experience in the ICU made me want to be a gentle mediator between food and people. I think we should use our resources for the benefit of the community," Seguin said.
There are traditionally two routes to becoming a Registered Dietitian (RD) – Seguin's end goal. The first is the didactic portion, in which students go to school first and then do an internship for one year. The other option is the coordinated route, where students go to class and have 20-25 hours of an internship each week. Seguin values the combination of classes and supervised practice, because it gives her the opportunity to directly apply what she's learning from the textbook.
The coordinated program is outlined in four semesters by topic area: community, management, clinical, and culminating. Throughout this time, students get to serve in local school districts and hospitals alongside a RD. "This experience gives us the chance to learn how to manage large budgets, see what's really happening, and apply what we're learning. It's such a privilege," Seguin said.
Seguin finished her research on determining the adherence to the Mediterranean diet by individuals in the US last May. She studied how closely individuals living in the US follow the diet, as well as demographics of certain groups in order to better understand trends. This is the most scientifically-based diet to reduce the risk of cardiovascular disease as well as various types of cancer. People can take a quiz to show how many points they currently obtain, out of nine total. Seguin found that people who can increase their score by two points may reduce their risk for disease or cancer by 25%.
Seguin graduates in May, and is in the process of applying for grad school for the fall. She expressed interest in adding a business degree so that one day she could have a private practice, but currently is studying for a Master's of Science that is required to sit for the national exam to become a RD. Her long-term goal is to become a clinical dietitian. She wants to serve individuals and families with food prep methods that enhance family togetherness and a healthy lifestyle.
Seguin credits the whole nutrition department with having a significant impact on her life. She serves as a TA for a professor, and looks up to both her faculty mentor and director.
Outside of the classroom, Seguin considers herself to be a foodie. She enjoys cooking, baking, and grilling, and tries to have guests over to her home at least once a month. She loves cultivating community, while showing people how cost effective making food at home can be. Seguin also takes advantage of the beautiful Trinity Trails in the spring sunshine.
Seguin offered some advice for current students, based on her experiences. "Beyond this season of life, if you want to pursue something non-traditional, don't be afraid to get out of your comfort zone. Pursue it regardless of the status quo. Take time to reflect and figure out what that is for you, because it's never too late to try something new."