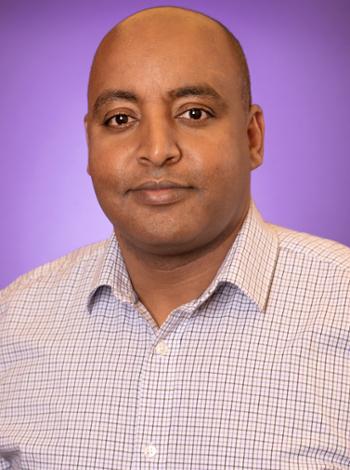 TCU is a location host this year to the growing GIS Day. The worldwide celebration is centered around discovering the world through geographic information systems, a scientific framework for gathering, analyzing and visualizing geographic data. The data is used in the public and private sector everywhere for everything from mapping sewer lines to analyzing populations to calculating your Amazon delivery route.
Involved in TCU's third annual GIS Day are Esri, spatial analytics leader and founder of GIS Day, and corporate partners Dunaway Associates and HEB. The panel also includes a cross-discipline representation from TCU, including the College of Science & Engineering's Esayas Gebremichael, assistant professor in the department of geological sciences; TCU Neeley School of Business' Laura Meade, professor of supply chain practice; and, from the AddRan College of Liberal Arts, associate professors Sean Crotty, Xiaolu Zhou and Kyle Walker.
Gebremichael answered a few questions on how GIS is being used in the College of Science & Engineering.
How do you use GIS in your classroom?
I currently teach a number of GIS and remote sensing courses and also oversee the GIS Certificate Program offered in the Department of Geological Sciences. In the classroom, I use examples and exercises based on real-world situations and events to demonstrate the practical applications of GIS and other geospatial technology tools.
How are you using GIS in your research?
My current research focuses on understanding the processes, controlling factors and socio-economic impacts of non-climatic process-driven lake level rises. GIS spatial data analysis tools are used to analyze and integrate multi-source remote sensing and in-situ-acquired big data. In addition, I'm supervising three graduate students working on various research topics and GIS tools are integral data processing and visualization tools in each of the studies.
Applying an integrated research approach that primarily relies on remote sensing and other geospatial datasets in conjunction with field (in-situ) datasets (and techniques) for a wide range of applications is central to my research philosophy. I employ the wide-ranging capabilities of GIS tools for data visualization, performing spatial analysis and result interpretations.
Can you speak to how else GIS is being used in CSE?
GIS is being used by faculty and students across departments and programs in CSE. The annual Student Research Symposium has provided a good platform to showcase students' research conducted with the support of GIS tools.
In addition, though temporarily halted (because of the COVID-19 pandemic), currently underway is a plan to engage middle and high school educators in Fort Worth and Crowley ISDs with a series of on-campus and off-campus (in the schools) sessions on geospatial technology topics with the goal of creating awareness on the capabilities of GIS tools in students.
Have you used GIS for any cross-discipline efforts at TCU?
For the past few years, the GIS Day event has been held annually at TCU. The event is organized through a collaborative effort with various colleges, schools and offices across campus. There is a plan is to leverage this opportunity to expand the collaboration further. One of the proposed initiatives is to establish a geospatial technology center that supports GIS and other geospatial technology tool users across campus.
For more on how GIS is being used at TCU, see the TCU Neeley School of Business and the AddRan College of Liberal Arts.