Eric Simanek, Robert A. Welch Chair of Chemistry, released a novel entitled, "The Whiskey Thieves: An American Adventure in 1871." The novel was self-published through Amazon and is now available for purchase.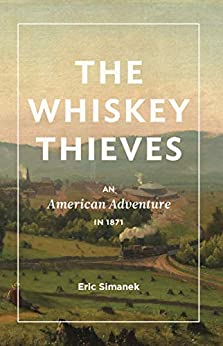 Through the whiskey course that Simanek teaches, Whiskey: Science & History, he has explored topics of both science and history. Over the years, he has found that expressing understanding through creative activities is the best way to cement knowledge. "The topic derives from an adventure that more than 100 amazing TCU students have taken me on," Simanek said.
Set in 1871 during the time of the whiskey scandal of the Grant presidency, the novel follows two fictional protagonists who are swept naively into a plot by William McKee and General John McDonald to discover how whiskey is being stolen from a rogue distillery in Peoria. Starting in Washington, the pair travels by train through Baltimore and across the Appalachian Plateau through Marietta, Cincinnati and St. Louis to ultimately arrive in the whiskey capital of the world. Along the way, forgotten, true stories of American history are retold, prominent figures once lost are rediscovered, and important places and events are revisited.
Simanek was inspired to write this novel and live out his dreams by the passing of a friend about five years ago. "As an elementary school student, I dreamed of writing a novel. Alex motivated me to get it done," Simanek said. "I would be remiss if I didn't thank my wife and mother-in-law for their support and editorial efforts as well as numerous friends across campus who read early versions and provided insight and support."
TCU also played a role in the creation process. "TCU is a special place. Without the academic energy, collegiality and freedom that has run through campus as captured in the teacher-scholar model, this adventure may not have happened," Simanek said. "TCU Press has been critical as well. They published my first book "Shots of Knowledge: The Science of Whiskey," which was co-written with Rob Arnold of F&R Distilling Company."