At age 11, Carson Huey-You enrolled in TCU to pursue his nearly lifelong goal of studying quantum mechanics. The young physicist received his bachelor's degree during spring commencement, making him the youngest graduate in school history. Huey-You may lead curious classmates to do a double-take as they pass him on campus, but he is comfortable being the youngest in educational settings. He says it has been "his normal."
As early as age three, Huey-You was interested in the way things work and how they interact with each other.
"When he was still young enough to be in a stroller – if the wind blew, he would look around to see what the wind affected. He was always curious about an action and what reaction it would create," said Claretta Kimp, Huey-You's mother. "He would tell me from an early age that he wanted to do physics."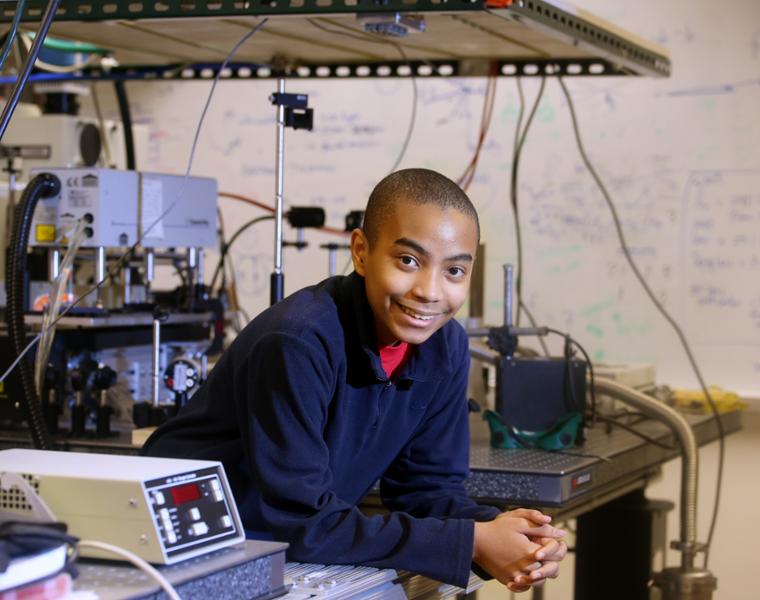 "When I first started teaching Carson, I was very impressed by his authentic accent. He has always been a very enthusiastic Chinese learner and active learner," said Zhang Junyu, adjunct faculty, Modern Language Studies Department.
"Many people doubted that he would graduate on time because of his major – it's not an easy major," Kimp said. "The coolest thing about this is that he is on track and he has had the support of his professors the whole way."
One professor has taken Huey-You under his wing since the very beginning as a result of their common interest in quantum physics. Dr. Magnus Rittby, professor of physics and senior associate dean for administration and graduate programs, first invited the family to campus to visit in response to an inquiry from Kimp about the physics program at TCU.
"We have done research together for a year and a half, but even before that there was a lot of mentoring," Huey-You said. "It has been a positive experience having a support system, and I will remember that as I continue on in my studies and my career."
"I have seen Dr. Rittby take on a special role in Carson's time here, and it goes beyond just teaching physics. There are many stresses a student goes through on campus and in college, and he has helped Carson go through these and learn to adapt," Kimp said. "As a mentor, he did not cut Carson any slack, and he didn't make anything soft and easy – he was firm when he needed to be firm. He has been here since day one with us. A lot of schools do not have what TCU has – the ability to nurture a young kid through a college-level experience."
Despite his precocious academic progress, Huey-You still enjoys common recreational activities. He and his younger brother, Cannan Huey-You (age 11), enjoy playing with lightsabers, playing MineCraft, and share a love for Star Wars and Lord of the Rings.
Carson and Cannan spend the majority of their days on campus, where Carson takes class and labs, and Cannan completes his high school studies through a remote learning program through the Accommodated Learning Academy in Grapevine, Texas, the same school Carson attended for high school.
The boys have close relationships with faculty and staff at TCU, and they have considered many of them to be like family. Carson and Cannan particularly enjoy visiting Jarvis Hall on campus where they interact with Dr. Darron Turner, Chief Inclusion Officer, who engages them in an occasional game of monkey-in-the-middle.
"They also have a lot of snacks over there, and it is a fun place to be. Dr. Turner always reminds us about the big events that happen over there," Carson said.
Despite his many significant achievements at TCU, Huey-You humbly says he is most proud of meeting his goal of graduating in four years.
"Working with Carson over the past four years has been fun and exciting, but challenging at times," Rittby said. "Not many have had the opportunity to work with a gifted young person in a university setting and it's been a privilege for me to be able to do so."
Before he is eligible for a driver's license, Huey-You will enroll in graduate school. This fall he plans to continue at TCU to pursue a Ph.D. in physics and earn a master's degree along the way.
"Carson had several offers from other schools for graduate school, but chose to remain at TCU. I think that speaks volumes about who we are as an institution, but even more so about the quality, passion and empathy of our faculty who embraced Carson and his family from day one," Rittby said.
"I was nervous to graduate, but happy. It is a really big step – moving forward from undergraduate to graduate school," Huey-You said.