Health literacy is a passion and primary research focus for Teresa Wagner '86 (DrPH, MS, CPH, RD/LD, CHWI, CHWC, DipACLM). She serves as an assistant professor in the School of Health Professions at the University of North Texas Health Science Center (UNHSC), as well as Clinical Executive for Health Literacy at SaferCare Texas. With a background in dietetics from TCU, Wagner became a successful registered dietitian and continued her education through graduate school until discovering the critical need to expand health literacy programs in communities throughout Texas. Her efforts have resulted in regional and national recognition in the field and led to her receipt of the 2020 TCU Distinguished Alumni Award.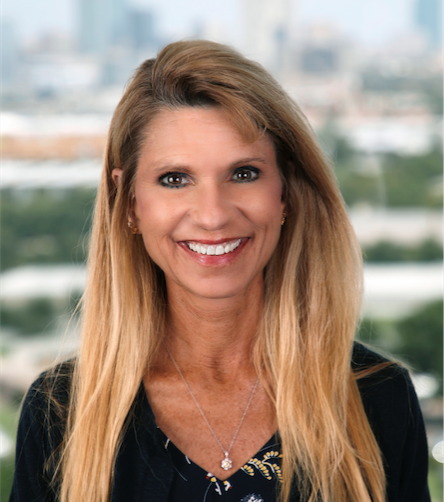 Each year TCU hosts a Leadership Awards luncheon (the 2020 luncheon was delayed until 2021 due to COVID-19) honoring key alumni and their accomplishments. The award honors alumni whose career and endeavors have achieved national prominence in a particular field. Among Wagner's community health resource improvement efforts, she developed an app (What About Mom) to help postpartum moms recognize emergent warning signs that warrant action to save their own lives. She has also worked with Meals on Wheels, Inc. of Tarrant County to recommend more health literate practices in health communication online, particularly for aging, homebound populations.
"I really needed a scholarship to be able to attend college, and TCU offered me an academic scholarship dedicated for minorities. I had always been a Horned Frog fan – my brother and I grew up listening to the school's sports games on the radio," Wagner said. "TCU opened up the world to me."
"TCU empowered me with the self-esteem and self-efficacy that is needed to be a leader. This built the foundation for my leadership skills," Wagner said. "The nutritional sciences program was life-changing. Everyone needs a strong leadership foundation to be successful, which TCU provided. Mentors like [the late] Professor Mary Anne Gorman were especially inspirational to me. She took me under her wing and fostered a lot of development as a professional."
After completing her master's degree, Wagner took a pause in her career until her two children were in grade school. She then had the opportunity to work for the National Dairy Council as a registered dietitian serving as a regional and national spokesperson. Wagner traveled the country in her role with National Dairy Council and quickly expanded her expertise in the organization, receiving several awards within the industry for crisis communication and marketing. She received two professional awards, one for nutrition-based media and then the Distinguished Scientist Award from the Texas Academy of Nutrition and Dietetics.
Once her children were grown, she returned to graduate school at UNTHSC to pursue a doctorate degree. At the time, public health was at a pivotal point in healthcare and in the country, so Wagner decided to combine her dietetics background with public health studies – a move that became a newfound area of passion.
"I had the good fortune of meeting a professor at UNTHSC, Dr. Erin Carlson, and after serving as her graduate assistant, went on to a public health residency," Wagner said. Wagner began working with the Literacy Coalition of Central Texas implementing community health literacy-based interventions, which is just one of her many efforts in the public health sector.
In June, Wagner and the "What About Mom" app team will receive an Interdisciplinary Education Award from the United States Public Health Service and the Interprofessional Education Collaborative (IPEC) for Community Empowerment. Her interdisciplinary team even included several TCU students from nursing, computer science and journalism to help design, develop and vet the app content for the target audience.
Wagner currently teaches the "Health Literacy and Communication" course at UNTHSC and hopes to create a broader health literacy internship program for students. "I had to create my own opportunity to learn health literacy. I want future students to have an already existing program." Ultimately, she wants to stay abreast of health literacy advancements to empower patients about their healthcare and abate preventable harm that can occur when people don't understand health information.