Emma Schmidt, junior actuarial sciences major from Waukee, Iowa, found her calling at an early age. Really, she found her callings early: mathematics and basketball. In addition to achieving a nearly perfect GPA at TCU, Schmidt spends her time as one of the managers of the TCU men's basketball team.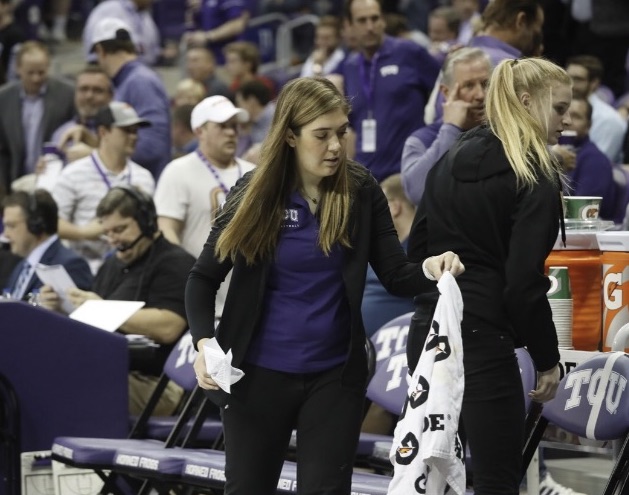 Before coming to TCU, Schmidt participated in a program at her high school where she was able to try out mini-internships with different businesses around Des Moines. This was when Schmidt noticed that she excelled in mathematics and realized that she could have a future in the math field. In addition to being talented in the classroom, Schmidt played basketball in high school and loved the sport. She knew she wanted to stay involved with that passion in college, but not as a player. The summer before her freshman year, Schmidt was scrolling through Twitter when she saw a post from the men's basketball team looking to hire new managers for the upcoming season. Ambitious as she is, Schmidt reached out quickly and set up an interview for the first week of school. Before completing her first week as a college student, Schmidt had landed her first managing job for the team. "From the very beginning I could see that the players and coaching staff were great and extremely welcoming, so I knew that I had made the right call coming to TCU," said Schmidt.
Schmidt spends nearly 26 hours a week as a basketball manager, including practices, rebounding nights, games and film assignments. When Schmidt started at TCU, she set the goal of making good grades. Her manager role has helped her learn to balance time effectively between basketball obligations and studying. Outside of the classroom, Schmidt notices herself using math skills on a personal level, especially while watching TCU basketball. "I'm always watching players and games through an analytical lens, tracking stats and numbers in my head," she said.
A major factor of Schmidt's success is that she really loves her math classes at TCU: "When you're struggling with a concept and then it clicks – you're just so proud of yourself. And that's how it always works with math." She feels as though the lessons she's learned in and out of class so far are preparing her for success after she graduates from TCU.
Although Schmidt is only a junior, she already has plans in mind after she graduates from TCU. She wants to attend graduate school, and would be interested in serving as a graduate assistant for a basketball team. Her current career interests include the field of insurance, but she'd happily work in the sports industry as well. "At TCU I've met and worked with so many people from different backgrounds who have helped me develop a strong work ethic to push me into a career," said Schmidt. Combining these skills with her understanding of math and applying the skills from the classroom to real life work, Schmidt feels confident working in the field of actuarial science. In fact, Schmidt was recently hired by Munich Re for a Life Actuarial Science Internship at the New York office this summer.
"Actuarial science is cool for someone who thinks analytically because there is a trajectory that you can follow to measure your success; you keep learning and understanding as you reach a higher level each time," Schmidt said.
Schmidt particularly emphasized that a degree in mathematics is cool: "because a lot of people don't know what actuarial science is, they just think that it's math and that math in general is boring." Schmidt wants to break the stereotypes that are associated with math majors, "you might think that all I do is just study, but that's not true. I have a social life, I manage the basketball team—I just happen to like math a lot, too." But it's more than just liking math for Schmidt: with her charisma and drive, it's clear that she will continue doing great things as she completes her time at TCU.