Lieutenant Colonel (LTC) Diana Loucks '96 graduated with a bachelor's degree in mathematics and a minor in astrophysics from TCU. She went on to earn a master of science degree in 2008 and a Ph.D. in 2017 - both in aerospace engineering sciences, from the University of Colorado Boulder. She was commissioned at TCU in December 1996, and is married to fellow Army officer Lieutenant Colonel Gary Loucks.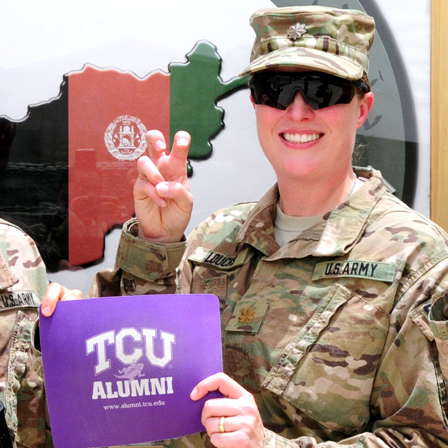 As of December 2020, Loucks will have spent 24 years as an active duty Army Officer, serving in Korea, Iraq, Afghanistan, Germany, North Carolina, New York, and Colorado, working in communications, Space Operations, and as a professor at the United States Military Academy at West Point. She served as an instructor at West Point in the Department of Physics for Academic Years 2009-2011, and now is an Academy Professor in the Department of Physics and Nuclear Engineering, lovingly called the "House of PaNE."
Her background in math from TCU has been beneficial throughout her career. "Math is the language of all sciences. I speak to faculty and cadets every day about the beauty of a language that allows us to apply mathematical techniques across so many disciplines," Loucks said. "Mathematics transcends the science that we explore. Having a mathematics background enabled me to not only teach physics, but also to explore vastly different areas of the aerospace discipline during my masters and Ph.D. programs. Having that background essentially means that I can learn or do anything!"
"True success results from an attitude of determination and a commitment to diligence," said Susan Staples, associate professor and actuarial program director. "Diana's work ethic and tenacity to succeed in advanced mathematical proof classes demonstrated her true mettle. Her entire career at TCU and beyond reflect her sense of duty to both the pursuit of learning and service to country."
During her first assignment at West Point, from 2008 to 2011, she was part of a group of instructors who discussed all things space, including the possibility of a space major. One member of the group was teaching in the department several years later and secured approval from West Point's curriculum committee to offer a space science major and minor starting with the Class of 2020. Loucks finished her Ph.D. and arrived just in time to take over the program and teach the inaugural courses in the new major.
"I love having the opportunity to teach, coach and mentor future Army officers about space and to shape the future of Army Space through that process," Loucks said. "I see this as my opportunity to both do what I love to ensure that the U.S. Army enhances its standing as the single largest user of space-based resources worldwide. The cadets in our program are inspired by the beauty and complexity of space as well as its employment during military operations."
Loucks instructed the first classes for space science majors and minors in astronautics in the fall of 2018 and 2019, and space physics in the spring of 2019 and 2020. She was named the Director of Advanced Physics this past summer. She continues to be a part of the Space Science Program via the courses required for the major, as well as with the research group that she leads with faculty and cadets focused on small satellites, GPS scintillation and space weather.
"I've always been fascinated by space, and I learn something new every day about the world and the universe around us. I think the number one thing that I love about the field and what keeps me in it is how diverse it is in terms of the number of associated disciplines, and the way that it embraces a variety of peoples on a global scale. It is a field that transcends artificial boundaries and allows us to study, explore and leverage its secrets regardless of our unique backgrounds. Moreover, it is our unique backgrounds that draw us to it - each background bringing its own unique perspective, the combination of which allows us to innovate and continue on our path to reaching goals like getting humans back to the Moon and eventually to Mars."
Aside from space, Loucks also loves to sing, play sports, and most especially be a mentor and role model for cadets at West Point, as well as cadets and aspiring scientists around the country. "I would have never envisioned that my journey would work out as it has, and I have no idea where I'm going to be 5, 10 or even 15 years from now," Loucks said. "What I do know is that my husband and I are having a daily impact on not just the cadets that I teach or advise, but also those that we sponsor from all over the country. It is why Gary and I love what we do - together we are shaping the future leadership of the Army and to an extent of our nation. As long as we can continue to do that, we'll allow ourselves to go where life takes us."