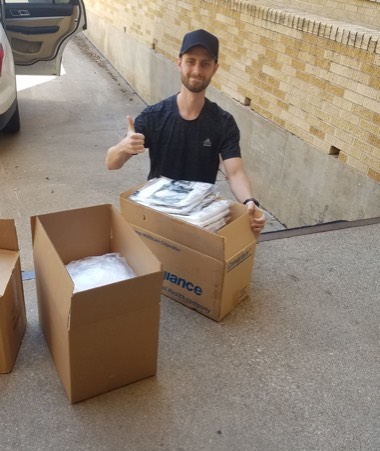 The College of Science & Engineering donated spare supplies of personal protective equipment (PPE), such as nitrile (exam) gloves, to local agencies – Moncrief Cancer Institute, Tarrant County Homeless Coalition, Careflite and Fort Worth Emergency Preparedness. Overall, CSE faculty and staff were able to safely collect and donate more than 150 pairs of protective eyewear, 1,500 surgical masks and 250 boxes of surgical gloves (25,000 pairs). These materials were primarily collected from supplies from the biology, chemistry and biochemistry, engineering and psychology department labs. The extent of PPE equipment was enough to fill one freshman teaching lab at TCU.
Arborlawn United Methodist Church food pantry also a recipient of gloves. "The gloves donated by TCU will be used by volunteers at the Arborlawn UMC mobile food pantry. These gloves will be used by volunteers when picking up food from the Tarrant Area Food Bank and delivering to the pantry. They will also be worn when packing food for distribution at the mobile pantry and when distributing food during the scheduled pantry hours. The mobile pantry is serving Fort Worth residents in need of food during the coronavirus outbreak. Additionally, through the Academy 4 mentoring program, families in need at Westcliff Elementary are served."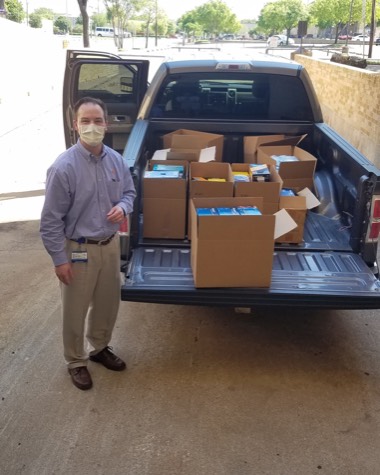 "We were aware of the great work that Moncrief does and their potential need. They have been a great partner and welcome pre-health and nutrition students into their facility each semester to learn about cancer care and community health," said Matt Chumchal, director of the TCU Pre-Health Professions Institute and professor of biology.
Cook Children's Medical Center also received a donation of new safety goggles from CSE's science labs.