Main Content
Announcements
Congratulations to biology professor Clark Jones who was named by the TCU Student Government Association
as the 2023 SGA Faculty Member of the Year for his exemplary dedication to teaching and assisting students in and outside of the classroom.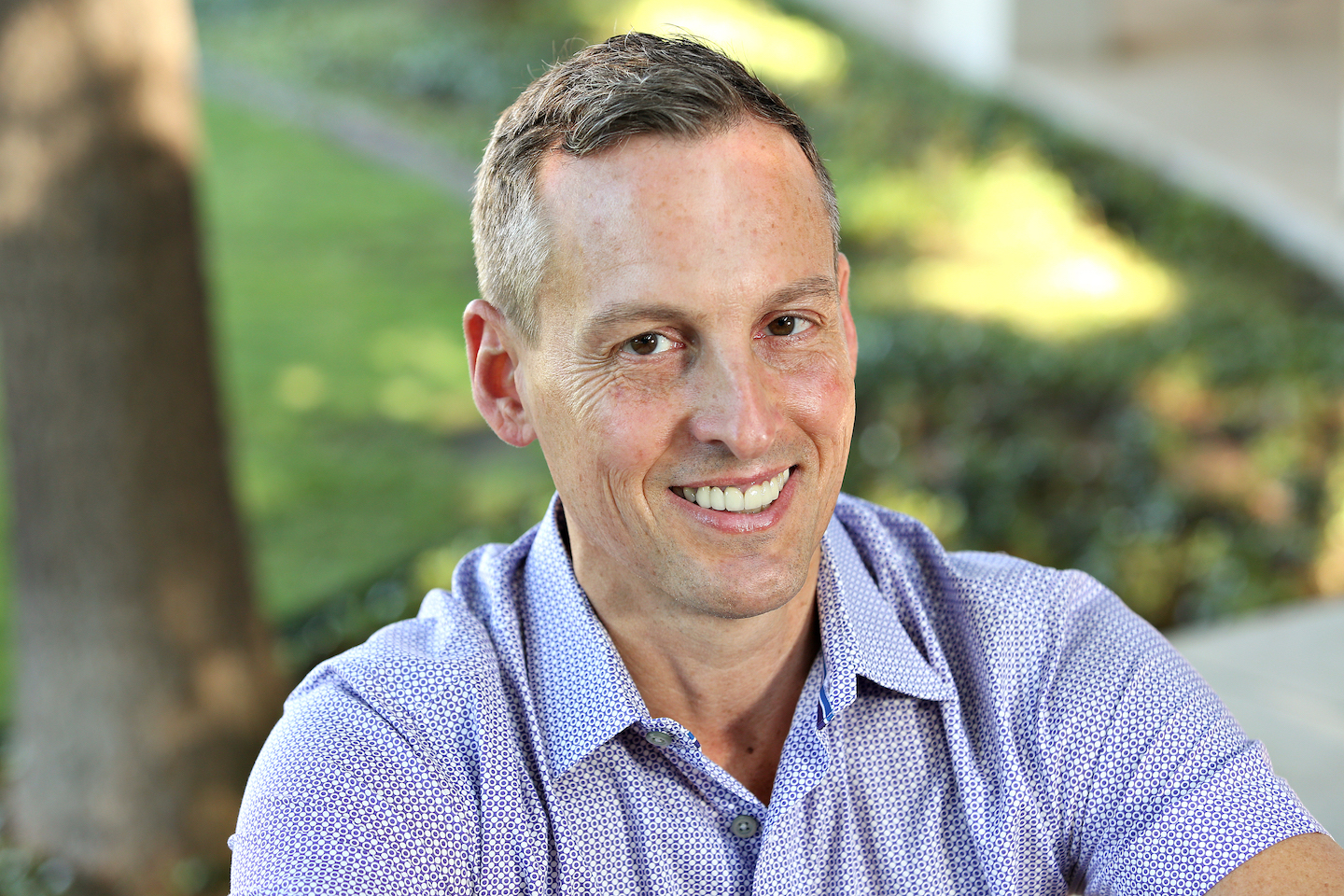 It's almost time for the 20th annual Michael and Sally McCracken Student Research Symposium on April 28 from 11:30am - 3:45pm. An awards ceremony will follow from 4 - 5:30pm in Sid Richardson LH 1. This year's keynote speaker is Dr. Elisa Marroquin, assistant professor in the TCU Department of Nutritional Sciences.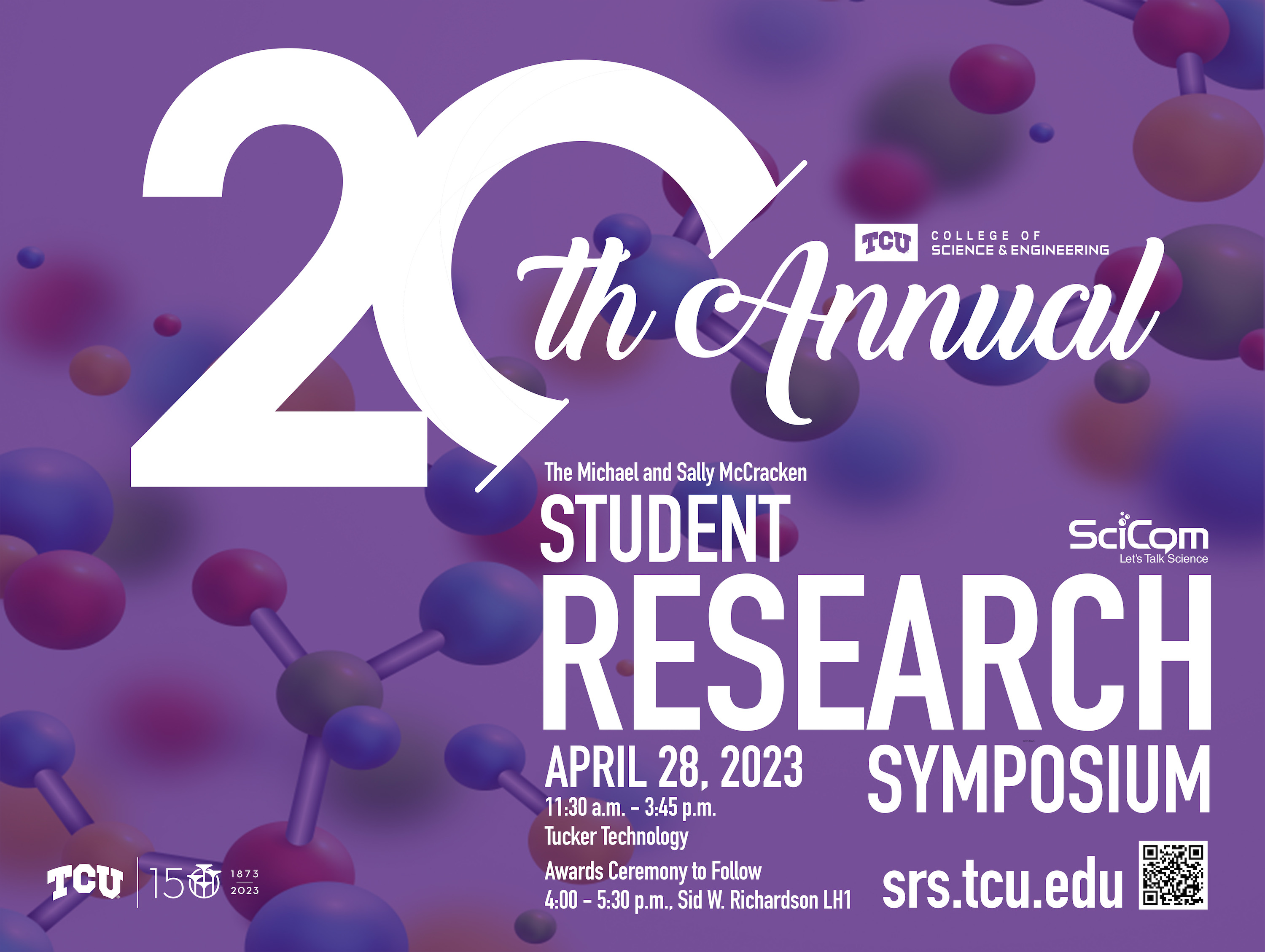 Peer Mentors will support prospective, first-year, returning, transferring, and underrepresented students in their transition to the CSE community by providing resources to increase their success and engagement with the University.
After two years of being shut down due to COVID, the Oscar E. Monnig Meteorite Gallery once again opens its doors. Visitors to the Monnig can once again learn how to identify a meteorite, enjoy hands-on encounters with different types of meteorites, create their own terrestrial impact crater, and have an "out-of-this-world" experience.
In honor of National Engineers Week, guests are invited to hear Dr. Charles Camarda, astronaut and engineer, give a lecture on Feb. 21 from 7-9 p.m. in SWR Lecture Hall 1.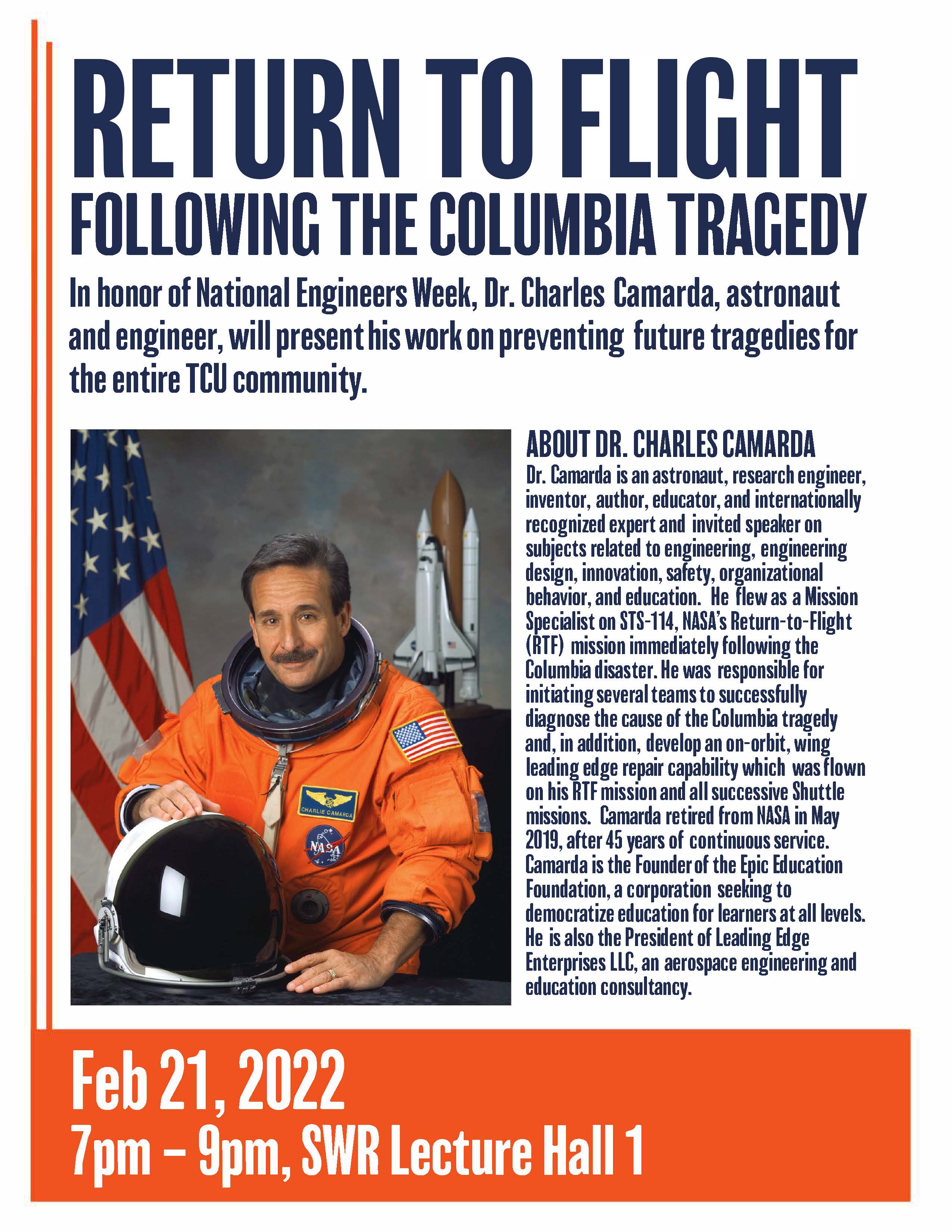 A Survey of Whiskey program is part of the TCU Whiskey School led by Dr. Eric Simanek. Don't miss the opportunity to learn more about this spirit on Jan. 27 from 7-9 p.m. Location TBD. Sign up here: Sign up here: https://www.campusce.net/tcu/course/course.aspx?catId=430.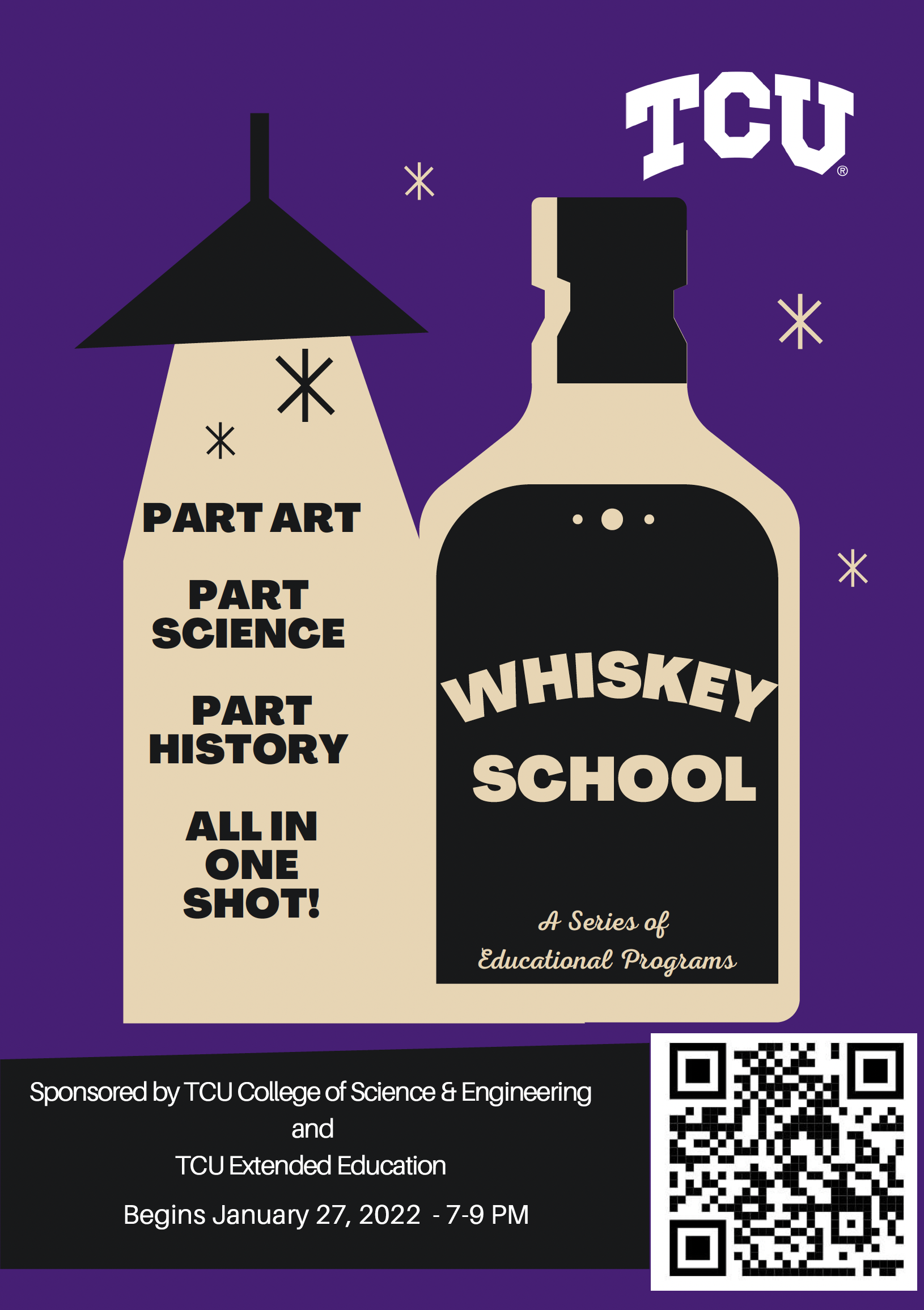 Come celebrate the accomplishments of first-generation college students. Attendees will receive treats and have the opportunity to participate in giveaways and interact with other first-gen students.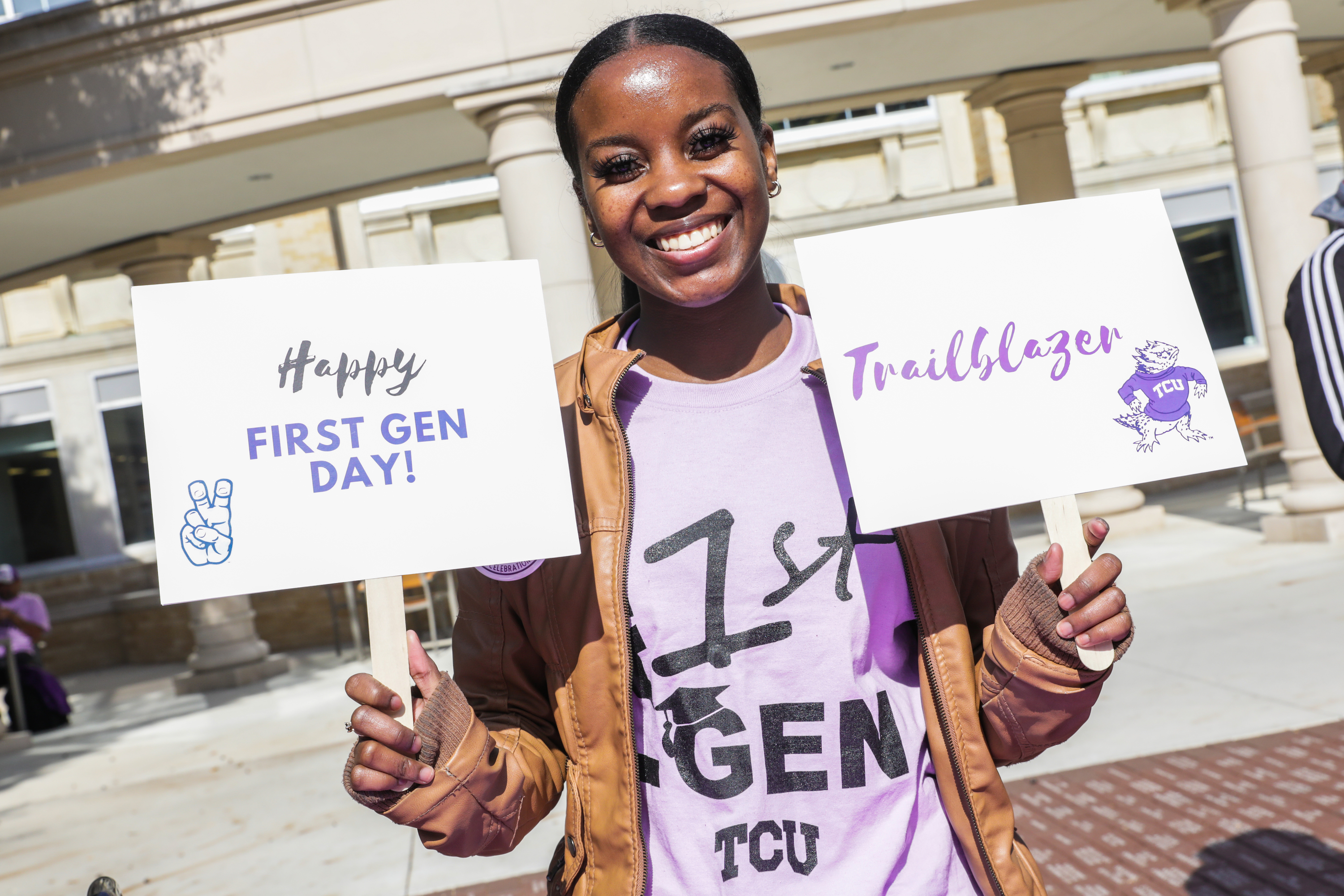 The College of Science & Engineering invites you to participate in TCU Gives Day on Oct. 26. This year, if the CSE receives gifts from 100 donors during TCU Gives Day, an additional $26,000 in challenge gifts will be unlocked thanks to the generosity of Sally and Vince Burkett and Marvin Ivey '79 and his wife Cynthia. Gifts to CSE allow us to broaden the scope of student research, thus creating a stronger, more innovative, and more globally connected college. GIVE NOW: https://tcugivesday.tcu.edu.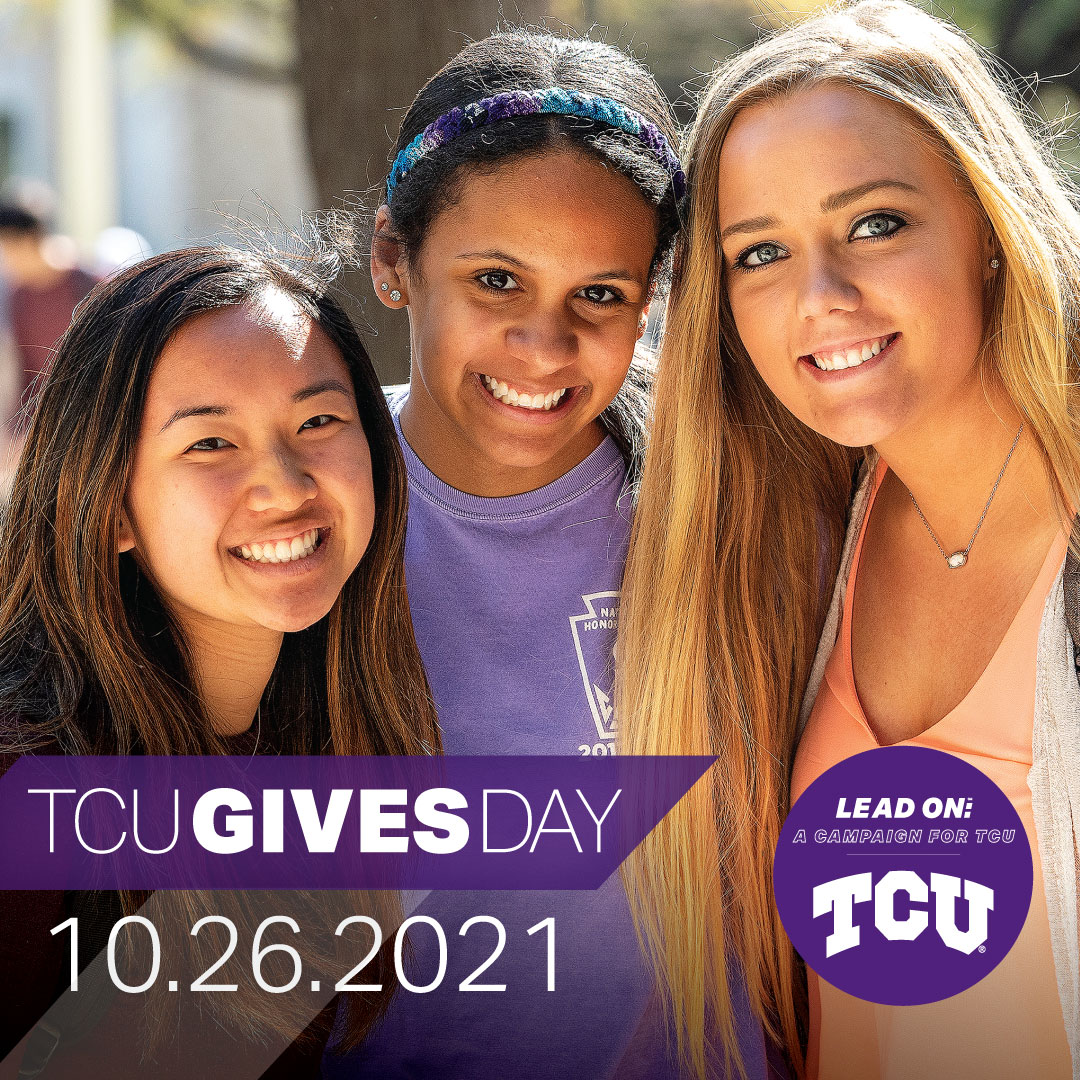 The Kit and Charlie Moncrief Conversations

The Geology Department is very pleased to announce an occasional series of talks on geologic themes. All are welcome, whatever the heterogeneity of their academic journeys.


As someone said, long ago; "Civilization exists by Geological consent and is subject to Change without notice." We should listen!
The Earth is the omnipresent essential backdrop to all of our lives, and it behooves us to understand its habits and idiosyncrasies, its moods and challenges, and to enjoy conversations between humankind and Earth, conversations that can be both symbiotic and Socratic.
Accordingly, the Geology Department at Texas Christian University will offer an irregular series of talks on eclectic themes that explore the human and scientific interfaces of our home planet.
If you have to miss, the talks will be available in PDF format.
The first talk, given by the Moncrief Chair holder was: Clans and Conglomerates, Cliffs and Conglomerates. Canto the First.
The second will be: The Old Red Sandstone a Fishy Tail.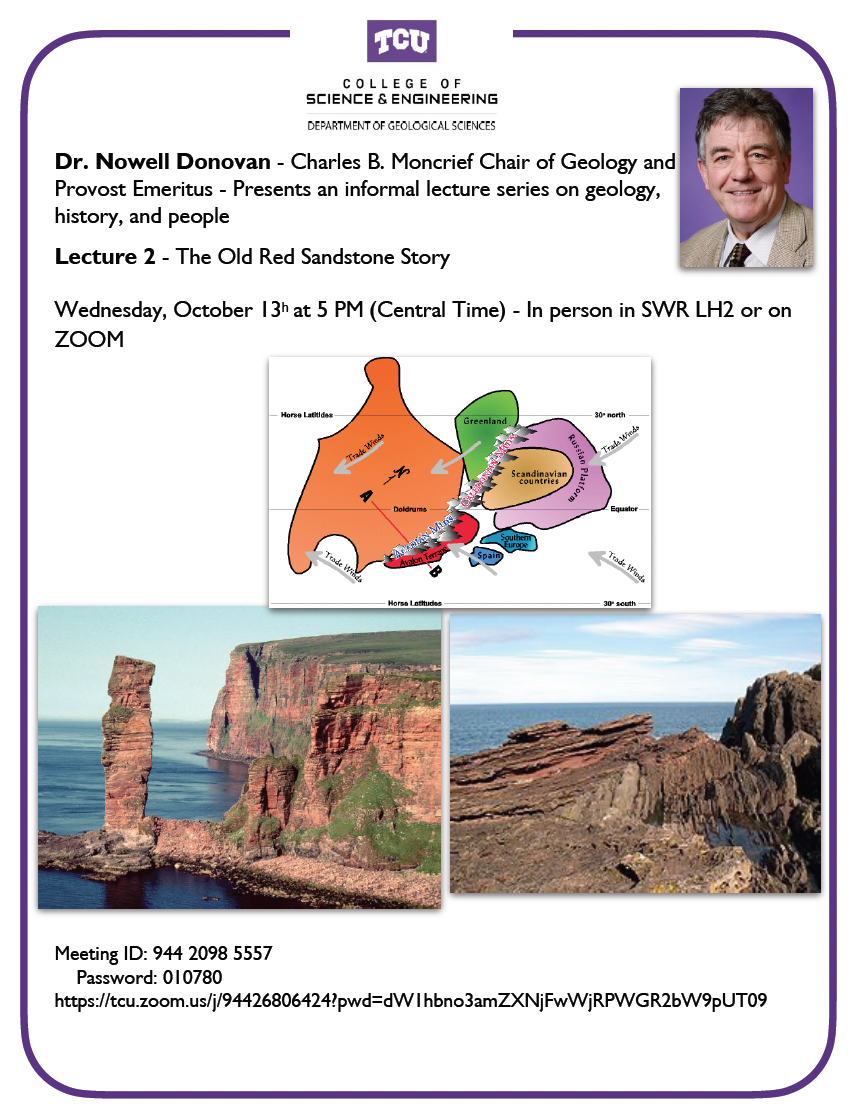 The race is on to save the rhino! Don't forget to sign up for the 5th Annual TCU Rhino Run featuring a 5K and 1K Kid's Race supporting rhino conservation. Start time is 8:15 a.m. on Sept. 19 at Frog Alley. Registration is $30 in advance and $35 on site. Register here now.
The CSE Testing Center is open Monday - Friday, 9 a.m. - 3 p.m. in Tucker Technology Center, room 246.
The interdisciplinary collaboration provides new opportunities for the TCU Energy Institute to grow and evolve in its important role for students, faculty and energy professionals. "This collaboration will further develop the interdisciplinary efforts of the Energy Institute's programs and activities," said Phil Hartman, Dean of the College of Science & Engineering. "I am grateful for the exceptional leadership of Richard Denne, and to his predecessor Ken Morgan, who helped found and guide the Energy Institute. I look forward to this new relationship and an exciting future."
Matt Chumchal, professor and director of the Pre-Health Professions Institute, received the Advisor of Year award by The Texas Association for Advisors of Health Professions (TAAHP) on February 5. The TAAHP brings advisors from across the state together to improve advising for students entering health professions.
"Dr. Chumchal is richly deserving of this prestigious award," Dean Phil Hartman said. "While the success of TCU's Pre-Health Professions Institute depends on the dedication, competence and compassion of many faculty and staff, his leadership has been critical to its continued success. Our students are fortunate to have such an outstanding mentor and advocate. He exemplifies the teacher-scholar model, TCU style."
Khiem Nguyen '22 received the 2020 Upsilon Pi Epsilon (UPE) Scholarship Award last fall. He was selected for the award on the basis of his academic record, extracurricular activities and the recommendation of the UPE advisor. Nguyen is an international student from Vietnam. He transferred to TCU from Tarrant County College (TCC) in fall 2018.
Because of Nguyen's academic and research achievements, he decided to join UPE. Liran Ma, associate professor, and Donnell Payne, associate professor and department chair, recommended that Nguyen apply for the UPE scholarship.
Nguyen has a true passion for computer science. "I love science and computers in general, and I enjoy figuring out how things work," Nguyen said. "Coding is the most interesting aspect to me because of the unlimited possibilities. That is a big reason why I chose to study computer science, and I love it."
After coming to TCU, Nguyen added math as a second major. "I think math is fundamental for computer science students. Implementing algorithms in programming requires basic, and sometimes advanced math skills," Nguyen said.
Currently, Nguyen is working with Ma, Associate Professor Ze-Li Dou and research assistant Kien Nguyen on an AI2GO research team. The team is researching an artificial intelligence (AI) application that can play a complicated Chinese game called Go. "I believe that AI is important and hope that our research can deliver a small contribution to the community," Nguyen said. "Real world work in the industry is fascinating to me, and I look forward to working in the field after graduation." Nguyen appreciates the opportunities that TCU has afforded him as a student. He values the relationships he has made with instructors, as well as the access to resources within the computer sciences department.
Astronomers at TCU are researching the mysteries of galaxies. A team of faculty and students, led by Associate Professor Kat Barger, is seeking to better understand how our own galaxy is able to continuously form stars and planets without running out of gas. This team is using observations taken with the Green Bank Telescope to decipher how well a massive gas cloud is traversing the Milky Way's defensive gaseous hot halo that surrounds it. "Simulations keep getting better, with higher resolution and more physics, but they are still poorly constrained. We still don't know the details of how exactly these clouds break up, but these observations will help," said Barger.
This high velocity cloud, known as Complex A, carries with it enough material to form over 2 million suns and countless planets. "The incredible Green Bank Telescope allowed us to map this large gas cloud in great detail down to the minute undulating features being produced by its path onto the Milky Way's disk," said David Nidever, coauthor from Montana State University, on their 2020 study. With these observations, they are finding that gas instabilities are forming on the surface of this gas cloud, which are causing it to break up and dissolve into the Galactic halo; not all of its gas will reach the Milky Way's disk to be uses as the building blocks of new solar systems.
Barger presented her recent research findings at the American Astronomical Society virtual conference. Cannon Huey-You, 15-year-old engineering and physics and astronomy major at TCU, also contributed to this research project beginning when he was in high school (at age 9). He is listed as the third author on the recent publication. Watch this video to learn more about their research.
Each winter, pre-health students typically host a holiday event for patients and their families associated with the Heroes for Children organization. Heroes for Children helps provide financial and social assistance programs for families with children battling cancer. Due to COVID-19 restrictions, this year students are partnering with Cook Children's Hospital and spreading holiday cheer by packaging holiday activities for families with Heroes for Children, a charity that helps kids battling cancer. The kits will include items such as: candles, crafting materials, fleece blankets, DVDs and popcorn, cookie mix and cookie cutters, board games and candy.
The students who participated in holiday kit assembly included: Payton Aydelott, Rigo Garcia, Ashlyn Laidman, Megan Ha, Chloe Ricke, Joey Mellberg, Annemarie Thompson, and Gretel Jordan.
Professor of Engineering Sue Gong received a grant in the amount of $156,000 from Florida Atlantic University, funded by the Office of Naval Research. This grant will be used to develop a compact passive imaging system that can be put on autonomous platforms to monitor marine life activities.
Apply for the Chancellor's Postdoctoral Fellowship in cognitive, educational or developmental psychology. The fellowship is designed to promote diversity and support stellar scholars who are committed to research, teaching and service. Applications due by Jan. 25, 2021. For more information or to apply, please visit chancellor.tcu.edu/postdoc or contact Dr. Whitnee Boyd at w.boyd@tcu.edu or 817-257-4158.
Kevin Knight, Saul B. Sells Chair of Psychology at TCU, Sandra Springer, Associate Professor at Yale University, and Ank Nijhawan, Associate Professor at UT Southwestern, are the principal investigators in a study entitled "Addressing risk through Community Treatment for Infectious disease and Opioid use disorder Now (ACTION) among justice-involved populations." They received a grant totaling $11,113,030, of which TCU will receive approximately $2.5 million. This includes over $500,000 provided back to TCU as part of finance and administration, as well as indirect costs.
Their project focuses on improving HIV and Opioid Use Disorder management and implementation for criminal justice. A total of 864 criminal justice-involved participants that are being released in Connecticut and Texas will receive one of two treatments. The study has two specific aims: intervention effectiveness, related to the length of time participants continue the treatment, and implementation, which includes feasibility, acceptability, and costs of treatments. The grant will last from October 1, 2020 until August 31, 2025.
The IBR and KPICD's "LeSA" grant ("Preventing Opioid Use Among Justice-Involved Youth aas They Transition to Adulthood: Leveraging Safe Adults (LeSA)") has been awarded Years 2-5 ($4,460,305) of funding.
Mike Slattery, professor and chair of the Department of Environmental Sciences and director of the Institute for Environmental Studies, recently published the 6th edition of his textbook: Contemporary Environmental Issues.
We just launched this new CSE web experience. Take a look around and let us know what you think.
The ACS Women Chemists Committee named Associate Professor of Bioinorganic Chemistry Kayla Green as one of 10 recipients of the 2020 Rising Star Award. This award recognizes exceptional early to mid-career female chemists in all areas of chemistry on a national level.
Established in 2011 to help promote the retention of women in science, recipients of this award are invited to an award symposium highlighting their work at the 259th National Meeting of the American Chemical Society in Philadelphia from March 22-26, 2019. Additionally, the winners receive a stipend to cover travel expenses to the symposium.
TCU's Institute of Behavioral Research is now a part of the College of Science & Engineering. The move stands to align similar missions and create synergy and opportunity for students.
"In my view, the IBR move to CSE is a significant administrative move that will help strengthen TCU's academic profile and reputation, which aligns directly with the university's first strategic imperative," said Kevin Knight, Ph.D., professor and interim director of the Institute for Behavioral Research.
In addition to raising the university profile, Knight said the realignment will increase research opportunities for students in the CSE.
"For example, the IBR SOAR Lab (Student Overview of Applied Research) offers undergraduate students an introduction to applied research, coupled with interactive activities aimed to enhance academic skills," Knight said. "IBR also provides students with networking and mentoring opportunities with research-interested peers, graduate students and experienced IBR research scientists."
Phil Hartman, Ph.D., dean of the College of Science & Engineering, said he is thrilled to have IBR within the college.
"The IBR has long been one of TCU's crown jewels," he said. "The research funded by the National Institutes of Health that is conducted in the institute has been impactful to our society and aligns directly with TCU's mission statement of educating leaders to think and act as ethical leaders and responsible citizens."